Last year, modern bathrooms had all kinds of salient remodeling options from subway tiles to marble counters and brass fixtures.
This year promises to be just as good if not better in this regard. Minimal and modern bathrooms have a classy look which will never truly be done, but there is a lot of personality on the menu this year with new color, texture, and accessories. Colorful wallpapers, graphic tile patterns, and statement furniture are all the decor inspiration you need. Here are a few of the remodeling trends you can consider in 2017:
Statement furniture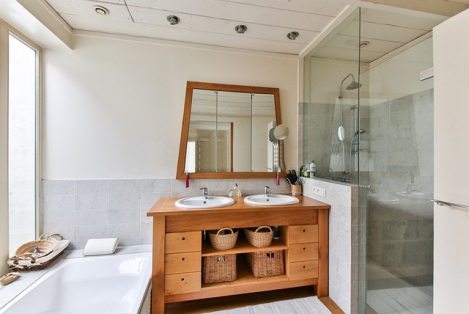 https://pixabay.com/en/bathroom-wood-furniture-shower-2132342/
The bathroom certainly isn't the first place you consider putting chairs or ottomans in, but perhaps it's time for you to reconsider. If you have space, there's no reason why you can't add a perch where you can spend time painting your nails?
Free-standing tub
Whether they are modern soaking tubs or vintage claw-foots, freestanding tubs is the trend which will make the most waves this year. They are gorgeous. They're obviously only meant for the people who have a ton of space in their bathrooms, but that doesn't mean all of us can't dream about having one of them in our dream house, right?
Minimalist cabinets
With colorful wallpaper, bold tile patterns, and quirky light fixtures having a crucial role to play in bathroom decor, it is paramount you keep everything in balance with some minimalist cabinet shapes. Clean cabinets with simple handles and knobs ensure a space doesn't feel very crowded irrespective of how small it is.
Dedicated vanities
They are perfect if you want to give your bathroom a cool factor. All you require really is a stool and small table to feel extra luxurious and give your makeup routine a special space of its own. Seriously, who wouldn't want to have a full tray of pretty creams and polishes in front of them?
You certainly do not want a bathroom looking like Rasaan's living room from the movie Shaft! That was disgusting!
Patterned tiles
Getting these tiles with some swirly motifs are going to be hot this year. Encaustic tiles are making a huge comeback too and irrespective of whether you are fond of Moroccan-inspired designs or modern shapes, they have a rustic charm to them.
Mismatched tiles
Combining various tile types is a cool and easy way of getting a custom bathroom. Pair monochromatic palettes for serious impact visually and play with the layers of hex, square, and subway tiles to give your bathroom a cool makeover.
Dark walls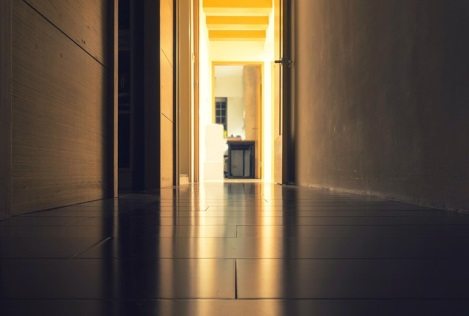 https://pixabay.com/en/hallway-indoors-light-perspective-1845733/
Even small bathrooms can do a lot with dark walls, especially when the cabinets match. Contrast using natural textures like wood-framed mirrors or jute rugs. This will give you the perfect space which is never going to get outdated.
Quirky wall art
Usually, wall art is about aquarium or fish related themes. But now, unexpected work is going to make an entry into the bathroom. Whether its bold prints on wallpaper or complete walls with modern prints, bathrooms will get much more quirky.
Throw rugs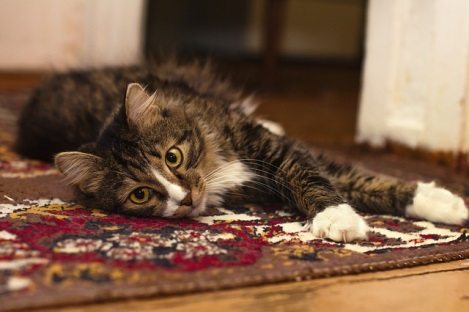 https://pixabay.com/en/animal-animal-photography-carpet-1844835/
Gone are the old bath mats. They need to be replaced with throw rugs. They offer an indefinite upgrade from the boring old fluffy versions. Bathrooms are being treated like regular rooms now more than ever. So, doesn't it make sense to bring rugs which you would normally find in the bedroom or kitchen into the bathroom too?
Luxe products
Everyone is dying to create that 5-star hotel feel wherever they go. Get some chic options for your shelves and some of the best photogenic soap products to put on them. They'll look real fancy in no time.
Round mirrors
Mirrors are something bathrooms can't do without. But the trending look this year is oversized and round. They can be glam or rustic depending on the frame you choose. You could even use them without a frame if you prefer. Either way, they will make any bathroom feel much grander as compared to their boring square counterparts.
Just remember, the movie Mirrors is fiction as well! But Paula Patton is the real deal, Hollywood knows that!
Wall-mounted faucets
A small bathroom has a very clever way to save you space. You simply mount the faucets on the wall. This looks very stylish in black or weathered brass finishes against white tiles or bold walls.
Fish scale tiles
Lastly, fish scale tiles are becoming popular very fast this year. It is a very fun variation of subway tiles which retain a feminine, fresh vibe. Pair some blue pastel with gold cabinetry for an awesome look.