There was a time when dusting meant moving around your home with an old t-shirt and some furniture polish while loathing all the effort you need to put in to make each surface shine.
While there are a few rules which have been set in stone, like starting at the top and moving to the bottom, there are a lot of really smart ways of dusting which are usually overlooked or ignored. They can make this boring chore into something fun. The next time you want to clean, these tricks will surely help:
Baby Wipes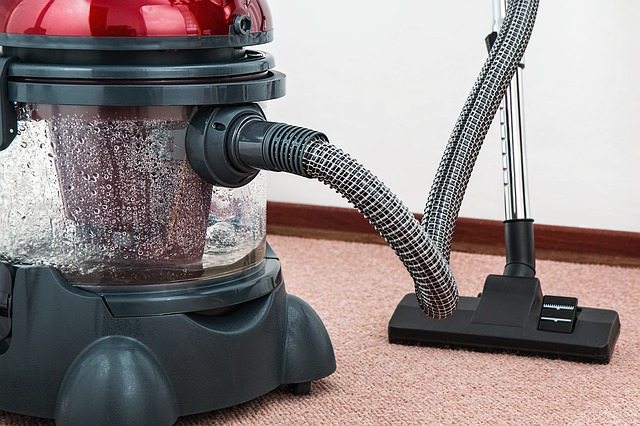 https://pixabay.com/en/vacuum-cleaner-carpet-cleaner-657719/
There are some baby wipes which you can even launder and reuse as cleaning rags and cloths. It goes without saying that you should only consider the mildly soiled wipes for laundering. You do not want to make a mistake here! Periodically shaking your keyboard is a poignant way to get rid of all the debris and dust which gathers between and underneath the keys. But this is only part of the job.
To complete it, use a baby wipe and remove any dried spills, dirt, unspecified gunk, etc. from the keys. Make sure your computer is off while you do this. You do not want to press enter and the wrong email is sent or an email is sent at all to someone!
Fabric Softening Liquid
Do you get frustrated when you see dust on your TV screen or any other surface immediately after you clean them? To get rid of the static which attracts dust, all you have to do is dampen your cloth using fabric softener and dust it normally. Use this to clean shower doors, glass tables, and any other hard surface. Don't forget to polish the surface using a dry cloth right after.
Fabric Softener Sheets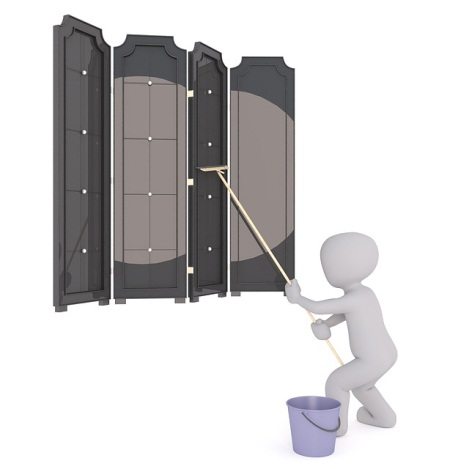 https://pixabay.com/en/aim-for-home-parents-house-1825673/
Since PC and TV screens are charged electrically, they attract dust. This makes dusting a never-ending chore. You can make it easier by using dryer softener sheets, though. They are designed to reduce the static cling which means they don't just remove the dust, but also prevent it from resettling.
Cleaning a set of Venetian blinds can be quite a task. So make the results last longer by using a fabric softener sheet to keep dust away. Whenever the effect wears off, just wipe them again.
Gloves
They can come in handy when you have to dust some delicate items or glass animals. Wear fabric gloves, soft is good, and clean these items thoroughly. If you find tons of spider webs and dust on your chandelier, then this is a terrific way to clean it. Soak a couple of fabric gloves inside a window cleaner. Wear them and wipe the lighting fixture. You'll be amazed at the results.
Oven Mitts
Even though they are usually meant for kitchen duty, they can be fantastic when it comes to polishing or dusting around your home too. You just have to use one side of the mitt and apply polish or wax on your furniture. The other side can then be used for buffing it up. This is a terrific way of using all the old mitts you've already collected.
Paintbrushes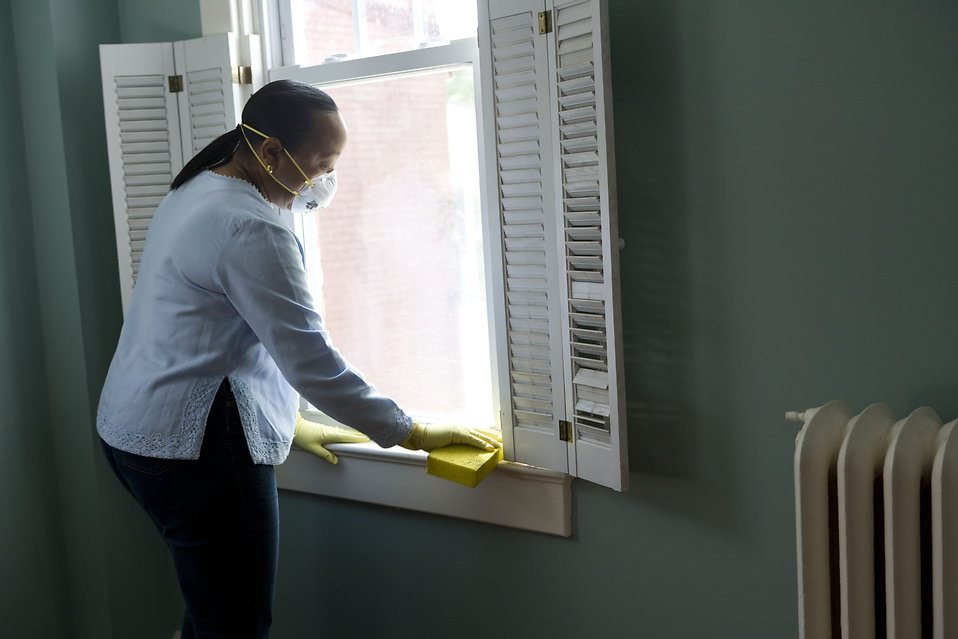 http://res.freestockphotos.biz/pictures/16/16329-an-african-american-woman-cleaning-a-window-pv.jpg
Do you think your window screens need some hardcore cleaning? Use a clean, large paintbrush for this. Shake the brush off after and dip it into some kerosene. Use this brush for painting both the sides of the screens. Then dry the mesh off with a clean cloth.
A dust rag or feather duster is magnificent when it comes to cleaning shelves, but they won't be able to get in between small crevices and cracks. This is where a natural-bristle paintbrush will come in handy. The soft bristles are amazing and can clean out some areas which are impossible to clean.
Pantyhose
There is no easier way for you to dust baking pans or similar surfaces using the correct amount of flour. All you have to do is to cut off the foot section from an old pantyhose and fill flour in it. Store it in a jar afterwards (not the one with your peanut butter!). A few gentle shakes of this new dispenser will help you dust flour onto any surface.
Pillowcases
Dust bunnies on the ceiling fan can be quite a pain to clean. Placing a pillowcase over the blades of the fan and then pulling it off slowly is the easiest way of cleaning them. The dust will remain inside the pillowcase and won't hit the floor either. Or you can just use a cotton dusting rag with some dust spray and wipe off the tops of the blades as well.
Make sure you have a proper stepping stool and that it is sitting on the floor level!