An egress window is a window that is required in a home's specific location and it is intended to provide
homeowners an emergency exit. To qualify as an egress window, there are specific measurements and sizes that
need to be met. The codes for this type of window vary from city to city and state to state.
According to the International Building Code, there should be at least one exterior emergency escape and rescue
opening in bedrooms and basements below the fourth story. The opening should open directly into a yard, court,
alley or public street. This opening can be a window, patio door or skylight, but it is required to meet certain
criteria:
 There must be a minimum net clear opening of 5.7 sq. ft. Net clear opening is the actual space that exists
when the window is open or the actual opening a person can crawl through. Code officials wish the
opening to be large enough for firefighters to comfortably crawl through in full protective gear as well
as an air tank on their back. For ground-floor windows, a net clear opening of 5 sq. ft. is all that is
required. They can be smaller because there is no rescue ladder to take up part of the opening.
 The opening height is required to be a minimum of 24 in., while the width needs to be a minimum of 20
in.
 The bottom of the clear opening is required to be within 44 in. of the floor.
 It should be possible to operate the window or other opening from the inside without keys or tools. It is
required for bars, grates, and grills over windows to be operational without tools or keys while still
allowing the minimum space for a clear opening.
If you're living in an older home that was constructed before IRC requirements had been established, your
egress windows might not meet the above regulations. Homeowners often forget to add them to rooms too.
Either of these mistakes can prove to be costly, possibly a mortal mistake.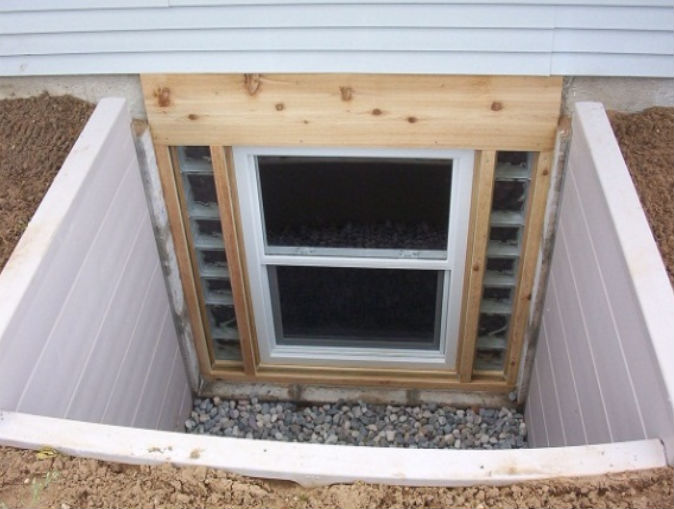 How To Choose an Egress Window
All egress windows are not created equal. When you are remodeling your home, the new egress windows
should match the style of the windows you already have and meet egress requirements. This can be challenging.
Keep these pros and cons in mind.
 Casement windows: These side-hinged windows meet the requirements for egress windows, but take
up the smallest amount of space on the walls. This makes them ideal when you need an egress window
in the basement or other areas with limited space.
 Double-hung windows: Even when you open it fully, more than half of the overall area of a double-
hung window is blocked by glass. This means that to meet height requirements of an egress window, a
window must be close to 4 ft. 9 in. in overall height. Because of this height requirement, double-hung
windows are not suitable for most basement egress situations.
 Awning windows: These top-hinged windows do not make the best egress windows. They do not fulfill
basement egress requirements because the entrance and exit is impeded by the opened sash. Awning
windows with center opening mechanisms also do not meet code because of hardware that tends to get
in the way. Egress requirements are only met by those with special hardware – and you will not find too
many of those around.
 Gliding windows: These horizontally sliding windows must be a minimum of 4 ft. wide and 4 ft. high
to meet egress requirements. If you have the space, the additional glass area and the light that comes in
are splendid in a basement area.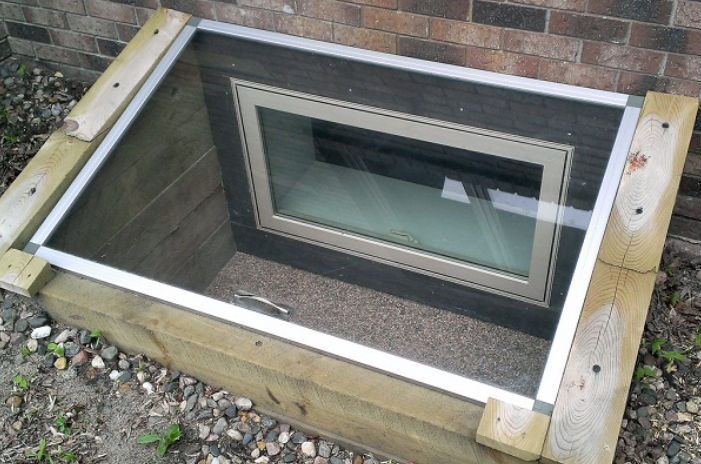 The Final Point
Since the primary purpose of an egress window is as a means of escape, it is paramount to keep them free from
window treatments or objects that may hinder an escape in case of an emergency. Avoid using any complicated
locks and do not block access to these windows with shelves and so on.
But this doesn't mean they must be boring and unappealing. An egress window can be certainly an asset to your
house. Speak with a window installation company to go over options and styles.